Making An Impact
Corporations
Whether your business is just beginning to consider how to make an impact in your community or you're already operating a corporate foundation, as your community foundation we can help you further your goal of making a lasting and positive difference where you, your employees and customers live and work.
As a permanent and trusted resource we can provide expert guidance to help you meet your corporate giving goals. By partnering with the Mankato Area Foundation we can help you establish a giving program that will promote your company's philanthropic passions in the place you love and benefit our community forever.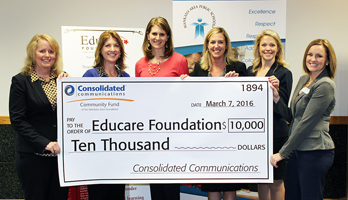 Educare Foundation
The Consolidated Communications Community Fund is proud to have a strong legacy of supporting the Educare Foundation, benefiting Mankato Area Public Schools.
Fund Types
Community foundations are a creative and flexible means for community-based philanthropy. Donors who want to give back to "Main Street" have a myriad of options. The role of the Mankato Area Foundation is to assist donors in structuring their gifts so both the donor and the community benefit from their charitable generosity. 
Establishing a corporate donor advised fund with the Mankato Area Foundation is effective and efficient. It is a convenient, flexible way for companies to give back to a community they care about. Your organization works with our expert staff to identify the grant recipients. We handle everything else.
Through a designated fund, you can provide ongoing financial support for one or more projects or purposes. We invest and distribute the income in the form of grants to organizations, programs and individuals that match your interests.
These funds allow donors to create a legacy of giving to individuals with educational goals. MAF works with donors to develop criteria and monitor the selection process.
Work with our MAF team to find the right fit for you.
Learn how you can start to make an impact today.