Meet Our Donors
In every generation there are special people who look to their past with gratitude, who recognize their commitment to the future, and who exercise their power to make a difference. At the Mankato Area Foundation, we have the privilege and pleasure of helping individuals, families and organizations exemplify generosity and achieve their philanthropic wishes. We are proud to be able to share some of their stories.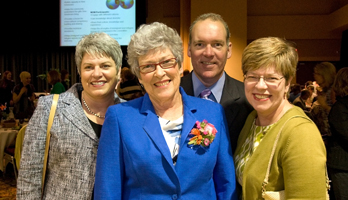 The Page Jones Richards Fund maintains its focus on family priorities, even as part of the Mankato Area Foundation. Sarah Richards has one word for why her family decided to convert their foundation to a donor-advised fund run by the Mankato Area Foundation: trust.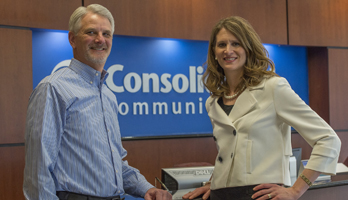 Amid all the changes that John Finke was thinking about when Enventis was purchased by Consolidated Communications in 2014 was the question of what to do with the company's foundation.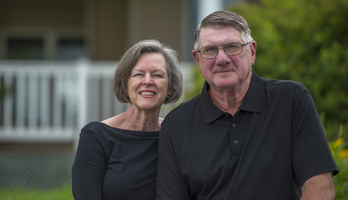 Jim and Kathryn Vonderharr laugh that during their 22 years of marriage, they've updated their will dozens of time. But the couple is fairly sure that they won't need to change it again, now that they've set up a donor-advised fund with the Mankato Area Foundation.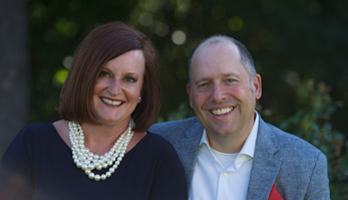 When Michelle Schooff's dad died in 2013, she knew exactly how she wanted to memorialize him: with a scholarship given in his name each year. And Michelle and her husband David knew exactly how they would create that scholarship, as well another in honor of David's father: through funds set up with the Mankato Area Foundation.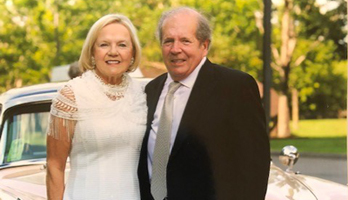 In an interview with Jane and Ogden W. Confer, they made it clear that they have deep roots in Mankato and a strong connection with the Mankato Area Foundation (MAF).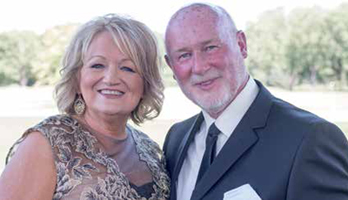 When David Christensen retired almost four years ago, he and his wife, Jill Evans, started thinking about the legacy they'd leave when they were gone. They quickly realized that they didn't want to wait that long to have an impact on the causes that mattered to them—and that they were blessed to be in a position to do so.
Recent Donors
FY 2016 - 2018
A. H. Hermel Company
Meredith & Joe Abdo
Abdo, Eick & Meyers, LLP
Alaska Insulation Supply
All American Foods, Inc.
Ron Andersen
Margery Anderson
Apple Adventure Racing, LLC
Judy & Daryl Arzdorf
JO & Chuck Bailey
BankVista
Helen & Paul Baumgartner
Dean Bentdahl
Linda & Randy Berkland
Deborah & Anthony Bertram
Jessica Beyer & Kurt Klinder
Eugene Biewen
Cathy & Mike Brennan
Catherine & Lonnie Bristol
Kathy & Bradley Brozik
Marilyn Buscher
Dawn & Drew Campbell
David Collins
Sandy & Jerry Crest
Crystal Valley
Jody & George Cunningham
Patricia Debill & Anne Richardson
Mark Dehen
Joyce & John Dickerman
Virginia Edwards
Malinda & Eric Else
Estate of Kristine Lindvall
Estate of Max Heintz
Malda & Joe Farnham
Jean & Randy Farrow
Sheri & James Fedson
Fisher Group of Mankato, Inc.
Debbie & Curt Fisher
Barb Flowers
Betsy Fowler
Anne & Tony Frentz
John Frentz
Jean & Robert Gallaway
Mary Gaskins
Gillette Pepsi Companies, Inc.
Gislason & Hunter LLP
Carolyn Graham
Pamela & Harold Grems
David Gruenzner
Shannon & Jim Gullickson
Sue & Dennis Hood
Carolyn & Gary Hopfenspirger
Anne Hunter & Scott Taylor
Jake's Stadium Pizza
Steve Jansen
Ada Jeppesen
Douglas Johnson
Richard Kakeldey
Carolyn & John Kanyusik
Kato Insurance Agency, Inc.
Kaye Corporation
Jane & Michael Kearney
Brian Koch
Patti & Rick Kramlinger
Jessica & Michael Krause
Martin Krause
L & N Andreas Foundation
Roxan & Jeffrey Lang
Diane & Thomas Lentz
Stacy Lienemann
Elaine Lilly & Joan Roca
Lime Valley Advertising, Inc.
Lindsay Windows, LLC
Judi & Marlin Lloyd
Lloyd Management Inc.
Kate & Jonathan Loging
Lorentz Post 11 American Legion
LPL Financial Charitable Foundation
Diane & Fred Lutz
The Mark and Mary Davis Foundation
Rosemarie & John Marso
Karen & Byron McGregor
Jill & Ryan McKeown
MEI Total Elevator Solutions
Judith & Marvin Metzler
Kendall & Rod Meyer
Irene & Warren Mickelson
S and D Miller
Minnesota Valley Federal Credit Union
MinnStar Bank
Michael & Lisa Montag
Morken, Eckberg, Steiner, LLC
Patricia & Richard Nienow
Norland Financial LLC
Olseth Family Foundation
OFC Clinic
Dianne and Richard Osborne
Kate & Todd Perkins
Shirley & Mark Piepho
Pier Pleasure
Jay Powell
Profinium, Inc.
Renaissance Charitable Foundation
Sarah Richards
Riverfront Technology
Robert W. Carlstrom Co.
Ronald & Rosie Rose
Joyce & Gerald Roust
Donna & Mike Rstom
Jeannie & Kenneth Saffert
Roger Saman
Colleen & Jim Santori
Scheels
Larry Schindle
Michelle & David Schooff
Gary Schott
Judy & Dennis Segar
Margie & Phil Slingsby
Southern Minnesota Hockey Officials Association
Bryan Sowers
Phyllis & Robert Stade
Cynthia Steiner
Stifel Nicolaus
Stinson Leonard Street
Jorae & Jason Storm
Nadine Sugden
Delores & Leon Tacheny
Tailwind Development, Inc.
Becky & Glen Taylor
Gretchen & Brett Taylor
Rhonda & Mark Taylor
The Benevity Community Impact Fund
The Thro Company, LLC
Melinda & Andrew Thom
Kathy Trauger
U.S. Bank
Joan Untiedt
Valley News Company
Melanie & Steven VanRoekel
Kathryn & James Vonderharr
Maureen & Ed Waltman
Jennie & Jim Ward
Polly & Bill Webster
Eric Webster
Melinda & Waclaw Wedzina
Wells Fargo Foundation
Nina & Buster West
Pamella Willard
William D. Radichel Foundation
Vee & Jerry Williams
Muriel & Mylan Wilson
Wilson Trailer Sales Of Minnesota, Inc.
Sandy & Randy Zellmer