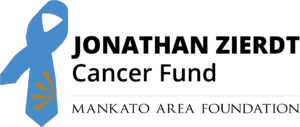 The Jonathan Zierdt Cancer Fund, a donor advised fund of the Mankato Area Foundation, was established in 2017 by Jonathan and Ginger Zierdt and a guiding coalition of engaged community leaders to build community cancer awareness and support.
Mission: Committed to Community Cancer Awareness and Support
Vision: Changing the Cancer Journey
THE REALITY OF CANCER
Cancer continues to be a leading cause of death in Minnesota and across the country. This is personal—it's about friends, neighbors and family in Minnesota.
One out of two Minnesotans will be diagnosed with cancer in their lifetime.
Every day, more than three of our friends, neighbors or family members are diagnosed with cancer in south central Minnesota.
Every day, more than one of our friends, neighbors or family members in south central Minnesota die from cancer.
Early detection makes all the difference—survival rates in most cases are significantly higher.
YOUR INVESTMENT WILL CHANGE THE CANCER JOURNEY
The Jonathan Zierdt Cancer Fund is committed to community cancer awareness and support. Here are just a few possible examples of how your investment will help change the cancer journey:
JZ Caring Box: The JZ Caring Box program donates specially designed care packages to our medical provider partners for distribution to patients diagnosed with cancer. Each JZ Caring Box contains items to provide support and comfort, and access to information and resources, to cancer patients, their families and caregivers.
Information and Resources:  The Jonathan Zierdt Cancer Fund partners and collaborates with multiple organizations that provide
important information, resources, and services to area cancer patients, their families and caregivers. Learn More
Join JZ!
Let's start building community cancer awareness today.

#growMANkato Going Strong to Promote Awareness of "Men's Cancers" In November and all year long
Mankato, MINN (October 10, 2017) – Once again, #growMANkato, a grassroots effort to raise individual and community awareness of men's health, with a focus on prostate & testicular cancer (the men's cancers) will be going strong this November. The efforts started in 2014 with conversation between two local men, testicular cancer survivor, Chris Harstad and prostate and kidney cancer survivor, Jonathan Zierdt.
Jonathan Zierdt Cancer Fund
Jonathan's Journey
Jonathan was diagnosed with kidney and prostate cancer in November, 2013. While his kidney cancer has been in remission since the fall of 2014, the prostate cancer has been a much stronger foe. Since its onset, he has been in constant treatment including surgery, radiation and anti-hormone therapy, followed by additional radiation, chemotherapy and ongoing anti-hormone therapy. The prostate cancer remains present, but as of early 2017 is considered to be stable.
Throughout his journey Jonathan has been bolstered by remaining actively engaged in the community and his work, hoping as he says to "change the face of cancer." Having received so much support during their cancer journey, this fund allows the greater community to engage with them in the fight against cancer.
Director
Tami Paulsen
Executive Committee
Eric Else
Mindy Else
David Naples
Sarah Person
Ginger Zierdt
Jonathan Zierdt
Champions
Laurie Ardner
Brad Ardner
JO Bailey
Kevin Buisman
Dennis Heiden
Pat Hentges
Keith Herwig
Darcy Hermel
Tom Johnson
Marcy Koch
Tom Koch
Fred Lutz
Karen Pappe
Dave Pfeffer
Jennifer Pfeffer
Todd Prafke
Marvin Rhodes
Kyle Smith
Todd Snell
Kathy Van Tol
Larry Van Tol
David Wittenberg
Jeff Weldon
Jay Weir
Partners
Caroline Baerg, MD
Mankato Clinic
Laura Bowman
Mayo Clinic Health System
Mike James, MD
Mankato Clinic
Rick Jeddeloh
American Cancer Society
John Kind
Mankato Family YMCA
Greg Kutcher, MD
Mayo Clinic Health System
Mitzi Roberts
Angels for Breast Cancer
Ex Officio Counsel
Nancy Zallek
Special Advisor
Mankato Area Foundation
Silas Danielson
Special Counsel - Legal Counsel
Paul Swenson
Special Counsel
Financial/lLegacy Counsel
Amy Linde
Special Assistance
Marketing & Communications