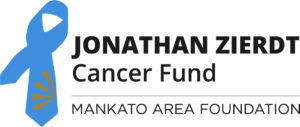 The Jonathan Zierdt Cancer Fund, a donor advised fund of the Mankato Area Foundation, was established in 2017 by Jonathan and Ginger Zierdt and a guiding coalition of engaged community leaders to build community cancer awareness and support.
Mission: Committed to Community Cancer Awareness and Support
Vision: Changing the Cancer Journey
growMANkato Mustache Bash
WEDNESDAY, NOVEMBER 30, 2022
Historic Masonic Hall
3:00 - 95:30 pm
View Facebook Event
MEAT RAFFLE – featuring meat packs from Christensen Farms
LIVE ENTERTAINMENT - Joe Togas and Associates Band & Comedian Dan Vierck
PLUS - Whiskey Tasting, Taco Buffet and Hero Hazy IPA
Winners of growMANkato Beard and Mustache contest announced.
Entry to this event is complimentary.
Wheel of Meat tickets are $5 each or $50 for 10 spins. There will be 10 spins throughout the night. Buy tickets at
https://tinyurl.com/4e2hsjm3
Throughout the month of November, growMANkato focuses on raising individual and community awareness of men's health, in particular prostate and testicular cancer.
Proceeds will benefit the JZ Cancer Fund to carry out their mission, in supporting patients throughout the region who receive a cancer diagnosis.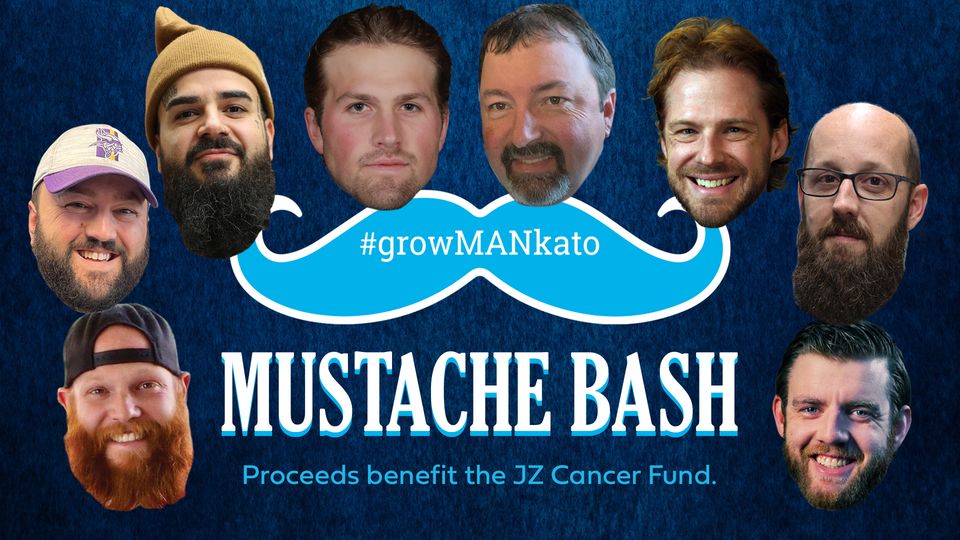 Caregiver Brochure
If you are helping a family member or friend through cancer treatment, you are a caregiver and play a key role in the patient's care. As a caregiver, you can also have a significant influence on how the patient copes with their illness and sticks with an often-difficult treatment plan. Download Caregiver Literature
"The closest thing to being cared for is to care for someone else." - Carson McCullers, author
THE REALITY OF CANCER
Cancer continues to be a leading cause of death in Minnesota and across the country. This is personal—it's about friends, neighbors and family in Minnesota.
One out of two Minnesotans will be diagnosed with cancer in their lifetime.
Every day, more than three of our friends, neighbors or family members are diagnosed with cancer in south central Minnesota.
Every day, more than one of our friends, neighbors or family members in south central Minnesota die from cancer.
Early detection makes all the difference—survival rates in most cases are significantly higher.
YOUR INVESTMENT WILL CHANGE THE CANCER JOURNEY
The Jonathan Zierdt Cancer Fund is committed to community cancer awareness and support. Here are just a few possible examples of how your investment will help change the cancer journey:
JZ Caring Box: The JZ Caring Box program donates specially designed care packages to our medical provider partners for distribution to patients diagnosed with cancer. Each JZ Caring Box contains items to provide support and comfort, and access to information and resources, to cancer patients, their families and caregivers. JZ Caring Box Guide
Information and Resources: The Jonathan Zierdt Cancer Fund partners and collaborates with multiple organizations that provide important information, resources and services to area cancer patients, their families and caregivers. Learn More | Caregiver Literature
Join JZ!
Let's start building community cancer awareness today.
Box Love Campaign
THANK YOU FOR CARING.
The Jonathan Zierdt Cancer Fund wishes to thank all donors to our Box Love Campaign. Through the generosity of hundreds of individuals,
businesses and foundations the Box Love Campaign has received $925,000 to help support those in our region affected by cancer. We are
especially grateful to our Major Gift donors listed below:
$100,000
Mayo Clinic Health System
$50,000 - $74,999
Eric and Mindy Else
$25,000 - $49,999
Dan and Angie Bastian
EI Microcircuits
Exclusively Diamonds
Fred and Diane Lutz
Mankato Clinic Foundation
MN River Builders Association
David and Dawn Naples
Bryan and Tami Paulsen
Todd Snell
Chad and Tara Surprenant Family
Tailwind Group
Jonathan and Ginger Zierdt

$12,500-$24,999
Greater Mankato Growth Board of Directors
Grow Mankato
David and Darcy Hermel
Paape Companies, Inc.
Dave and Jennifer Pfeffer
Mayo Clinic Health System Community Foundation Mankato
Michael and Donna Rstom
Schmeeckle Foundation
Jeff and Cindy Thom Foundation and All American Foods
Jeff and Katherine Weldon
$5,000-$12,499
Scott and Teresa Bergs
Bolton and Menk, Inc.
Consolidated Communications Community Fund
Dennis and Carole Dotson
Lenore Else and Douglas Johnson
Wynn and Ginette Kearney
Dr. Greg and Maura Kutcher
Mayo Clinic Health System Community Foundation Fairmont
Pub 500
Geoff and Rebecca Roise
Dan and Becky Sarff
Mary Jo Surprenant
Universal Sound Productions, LLC
Jay and Lisa Weir
Larry and Kathy Van Tol
Mankato Brewery, LLC
KLN Family Brands
$2,500-$4,999
1335 Foundation
Chuck Bailey and JO Guck Bailey
Blethen Berens
Lucy Brown
Consolidated Communications Community Fund of the Mankato Area Foundation
Rob and Rhonda Else
Fredrikson and Byron Foundation
Lupulin Brewing Company
Mankato Independent Originals
Mankato Mortuary
Dennis Murphy
US Bank Employees
In-Kind Donors
Barnes & Noble Booksellers, Mankato
FX/FUSION
KEYC TV – CBS/Fox Mankato
Navitor Inc., a Taylor Corporation Company
Profinium Bank – Fairmont
School Sisters of Notre Dame-Central Pacific Province
The Mankato Free Press
True Facade Pictures
United Prairie Bank - Mankato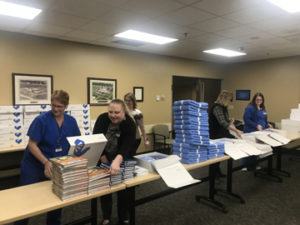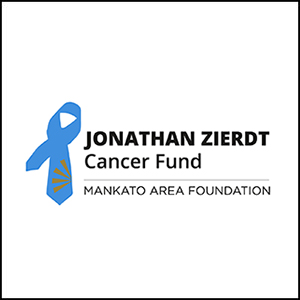 KEYC (November 30, 2022) — Since 2017, the Jonathan Zierdt Cancer Fund has engaged the community in bringing awareness of men's health, especially cancer prevention and support for patients and their families. "Being able to support individuals who are going through the cancer journey," wife of Jonathan Zierdt Ginger Zierdt
Lupulin Brewing Collaborates with Fish Sunflowers to Honor Jonathan Zierdt
Share in the Beauty of a Meaningful Sunflower Field
Lupulin Brewing Partners with Mankato Brewery to Release Hero Hazy IPA Soon
Lupulin Brewing's Hero Hazy IPA Benefits JZ Cancer Fund
Jonathan Zierdt Cancer Fund
Jonathan's Journey
Jonathan was diagnosed with kidney and prostate cancer in November, 2013. While his kidney cancer went into remission during the fall of 2014, the prostate cancer was a much stronger foe. Since its onset, Jonathan was in constant treatment including surgery, radiation and anti-hormone therapy, followed by additional radiation, chemotherap and ongoing anti-hormone therapy to treat metastatic prostate cancer beginning in 2016.
In May 2018 a new, relatively sizeable prostate cancer mass was identified in his former prostate bed. Unable to remove surgically or treat with radiation, the palliative option for treatment included new rounds of chemotherapy treatments from June through September 2018, followed by cryogenic surgery. After a five year courageous battle, fighting the cancer with all his might, Jonathan sadly lost that battle on March 27, 2019.
Throughout his journey Jonathan was bolstered by remaining actively engaged in the community and his work, hoping as he said to "change the face of cancer." Having received so much support during their cancer journey, Jonathan and Ginger Zierdt established the JZ Cancer Fund in 2017 with a mission and vision to build community cancer awareness and support and to help change the cancer journey. The JZ Cancer Fund remains committed to fulfilling Jonathan's vision and legacy.
Donor Relations and Programs Director
Maureen Gustafson
Executive Committee
Eric Else
Mindy Else
David Naples
Sarah Person
Ginger Zierdt
Board of Advisors
Laurie Ardner
Brad Ardner
JO Bailey
Kevin Buisman
Dennis Heiden
Pat Hentges
Keith Herwig
Darcy Hermel
Tom Johnson
Marcy Koch
Tom Koch
Fred Lutz
Karen Paape
Dave Pfeffer
Jennifer Pfeffer
Todd Prafke
Marvin Rhodes
Kyle Smith
Todd Snell
Kathy Van Tol
Larry Van Tol
Jeff Weldon
Jay Weir
Partners
Caroline Baerg, MD
Mankato Clinic
Laura Bowman
Mayo Clinic Health System
Mike James, MD
Mankato Clinic
Rick Jeddeloh
American Cancer Society
John Kind
Mankato Family YMCA
Greg Kutcher, MD
Mayo Clinic Health System
Mitzi Roberts
Angels for Breast Cancer
Ex Officio Counsel
Nancy Zallek
Special Advisor
Mankato Area Foundation
Silas Danielson
Special Counsel - Legal Counsel
Paul Swenson
Special Counsel
Financial/lLegacy Counsel
Amy Linde
Special Assistance
Marketing & Communications